Roy C. Hill Award
Visit the website at http://www.ctf-fce.ca/e/what/roychill.htm
The Roy C. Hill Awards Program was established in 1969 by the Roy C. Hill Charitable Foundation and is administered by the Canadian Teachers' Federation Trust Fund. The aim of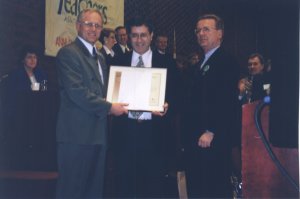 the Program is to encourage and reward active classroom teachers who have developed new ideas for the improvement of teaching practices.
"In March, 1998, Mr. Paola was awarded a Roy C. Hill Award for his work with our students as well as with the Metro Police Hate/Crime Unit. Since 1996, our students have been involved in a programme which showcases positive youth initiatives against Hate/Crime."
- Melissa Hestick, Notre Dame High School
"An instrumental music teacher at Neil McNeil High School in Toronto is a provincial winner in this year's Roy C. Hill Awards Program. Ennio Paola's project, 'In Tacit Understanding' involves students from age 11 to 20 in a cavalcade of the arts which allows them to use their talents in the visual arts, music, dance and the spoken word in oder to share their personal experiences and voice their inner feelings about the impact of hate motivated crimes."
- The Ontario English Catholic Teachers Association (OECTA)
Dear Ennio Paola,
On behalf of the Ontario Teachers' Federation, I wish to congratulate you for your innovative project "In Tacit Understanding: Celebrating Positive Youth Initiatives Against Hate/Crime Activities."
Your receipt of a Roy C. Hill Award ranks your creativity and innovation very highly. Your profession salutes you, and wishes you all the best in your future endeavours.
Sincerely,
Eileen Lennon,
President,
Ontario Teachers' Federation.
Dear Ennio:
I would like to congratulate you on behalf of the Toronto Catholic District School Board for receiving the Roy C. Hill Award. The main objective of the Roy C. Hill Awards program is firstly, to encourage teachers to develop and apply innovative ideas in their work in schools; and secondly, to make the description of these innovations and the record of their experimental application available to as many others as possible.
Ennio, you have met these objectives in your Metro Hall Cavalcade of Arts Showcase celebrating positive youth initiatives against hate/crime activities.
Congratulations on your performance of Wednesday, April 8th, "In Tacit Understanding...One Community Under the Same Sky".
Yours truly,
Johanne Stewart,
Director of Education,
Toronto Catholic District School Board.
City of Toronto Police "Respect Certificates"
Respect Certificate History
In 1993, members of the Toronto Police Hate Crime Unit conducted an extensive analysis of the ideologies and methods of youth recruitment by organized hate groups. These groups were appealing to youth by employing sophisticated psychological and ideological tactics. In 1995, the Hate Crime Unit initiated the "Respect Certificate Award Program" to counteract the recruitment drive by organized Hate groups.
The program seeks to recognize as many candidates as possible. Since 1995 a total of 1600 Respect Certificates have been awarded. The recepients include youth as young as junior kindergarten to senior members of the community.
Objective of the Respect Certificate Program
To publicly recognize Youth and Community members, promoting positive deeds in the community
Enhances Relations among Youth, Community members and local Police Officers.
Candidates may be nominated by
Any person wishing to nominate someone for the award
Any Police Officer
School Principals, teachers
CPLS members (Community Police Liasion Committee)
Community members
Community Associations
Guidelines for nominating Candidate(s)
The Candidates for this award will have participated in:
Positive Community or school projects such as The Advancement of Human Rights & Good Citizenship
Have demonstrated respectful attitudes towards his/her peers, teachers, the elderly, police, or community members.
Anyone wishing to nominate a person should:
Use the Toronto Police Nomination Form
Please submit a short synopsis of why the nominee(s) deserves the award
Name, address and telephone number of recepient
Nomination form to be faxed to the Staff/Sergeant in charge of the Community Response Unit in your local division.
(fax number is (416) 808 plus the Division number followed by "02". Eg. - 14 division fax number is 808-1402)
For further information please call the Community Liaison Section at (416) 808-7070 or e-mail: CommunityRelations@TorontoPolice.on.ca
The Pickering Civic Award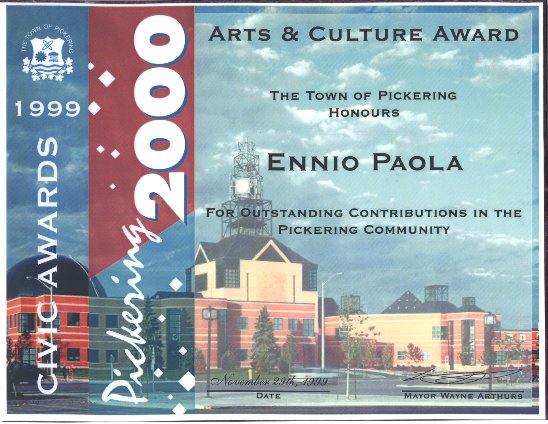 - Arts and Culture: Awarded for outstanding achievements, Nov. 29/99, Pickering Civic Centre.
Significant Music®™ Award
Awarded to the individual or group making the greatest contribution to Significant Music®™ programs celebrating positive youth initiatives.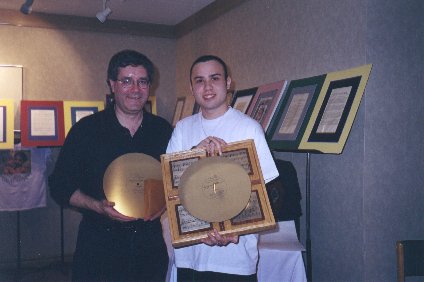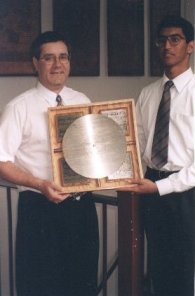 - 11th May, 2000 - awarded to Daniel Devlin, of Cardinal Newman High School, at a performance at York University.
- 21st April, 1999 - awarded to the WebAdministrator - Christopher Moraes,of Neil McNeil High School for work done on the One Community Universe web site.
Significant Music®™ Piano Competition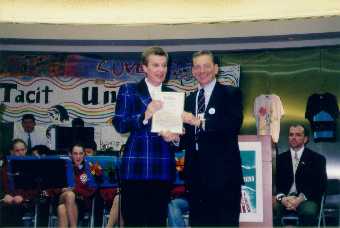 City of Toronto Citation
presented to School Administrators on behalf of student paricipants.
Mayor Mel Lastman and Members of Council of the City of Toronto recognize and congratulate staff and students for participation in "Celebrating Positive Youth Initiatives: Combatting Hate Crime through Music and Dramatic Arts".
This special program, co-sponsored by the Hate Crimes Unit of the Toronto Police Services and the City of Toronto's Access and Equity Unit,encourages students to demonstrate their commitment to promoting respect, dignity and peace through the medium of music and dramatic arts. By becoming part of the process to eliminate hate activities within their schools and their community, our young people can learn and grow and not be threatened by hate, harassment and violence.
We are proud of your efforts to create a sage, secure and positive environment in your school and in our community.
Best wishes for continued success.
Mayor Mel Lastman
City of Toronto
Canadian Unity Pin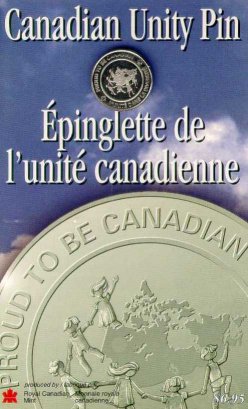 presented at Metro hall, April 21st, 1999 by Dr. Karen Mock, on behalf of B'nai Brith Canada
The Canadian Unity Pin was presented to all students involved in the "...In Tacit Understanding..." Program.
This pin, struck especially by the Royal Canadian Mint for B'nai Brith Canada, affords an opportunity for Canadians to express their support for national unity. The design is based on the 1979 International Year of the Child and the 1981 Adoption of "O Canada" as the National Anthem motifs featured on the $100 gold coins.
The wearing of this pin declares your proud endorsement of the multicultural and social unity of Canada - a country that has been ranked by the United Nations as number one in the world for the past four years. Our nation's fundamental respect for diversity combined with equality of opportunity, a dedication to legal rights and freedoms and a commitment to social justice underlie the force of our unity.
Paralleling the growth of Canada, B'nai Brith has been active in Canada for more than 120 years, serving as one of the country's senior community organizations fervently dedicated to the principle of "people helping people".
E-mail us at onecommunity@hotmail.com
Go to homepage