San Miguel de Allende
San Miguel de Allende, located in central Mexico, sits in mountainous terrain at about 6500 feet in elevation. Long regarded as a tourist destination and a center for the arts, it enjoys a moderate climate in both summer and winter.
Founded in 1542 by a Franciscan monk, San Miguel today boasts a rich colonial charm, with its cobblestone streets and extensive examples of Spanish architecture. In an effort to ensure the impression of a colonial town, it appears the city fathers have banned traffic lights at most intersections. Automobile traffic in San Miguel is saved from being chaotic only by the slow speeds at which vehicles must proceed over the cobblestones . . .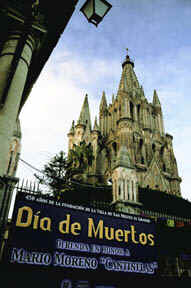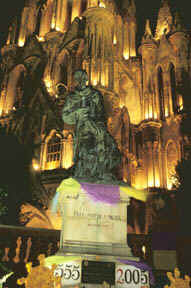 "La Parroquia" (the Parish church) towers over the center of the city, providing a landmark for both identification and navigation. The Church of St. Michael the Archangel is definitely the destination - specific view of San Miguel. While the church itself was built in the seventeenth century, the neogothic facade was added much later. It's rumoured that the architect had never seen a gothic church, and had to take his ideas from picture postcards of European gothic cathedrals.
La Parroquia dominates "El Jardin" (the garden), the main plaza of San Miguel de Allende, the place where any formal civic function, and all informal celebrations, take place. At one side of El Jardin is a statue of Fray Juan de San Miguel, the founder of the city.
Mike had wanted to go to San Miguel for a long time. Justification for this trip was an announcement by the Santa Fe Workshops http://www.sfworkshop.com/ that they would run a travel photography workshop in San Miguel de Allende in November.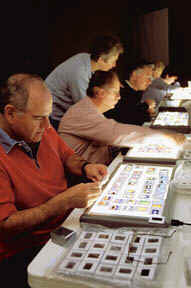 Santa Fe Workshops run a very professional presentation in San Miguel de Allende. Each film photographer has access to a lightbox and magnifier, for editing slides (the specified film type). Daily critiques of work are the order of the day, with the entire group providing ideas and commentary. Slides are processed overnight, so that daily work can be critiqued and improved upon.
Moderator for this workshop was Macduff Everton,http://www.macduffeverton.com/ a prolific photographer for a number of well-known publications, including National Geographic. The theme of the workshop was people photography, of which Everton is a master.
Rather than hiding behind lamp posts and parked cars while using long telephoto lenses, Everton urges his students to use wide - angle lenses, and to develop a relationship with a subject, so that the subject could "invest in the image".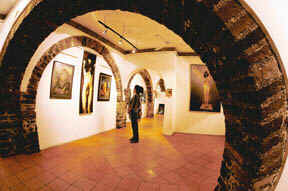 The art gallery "ZAC50" on Zacateros Street proved to be a great place for Mike to practice his new skills at people photography.
Mike did initial "research" by wandering the gallery one evening, when it was empty of customers. The gallery itself was a wonderful photo op, with "arches within arches" crying out for a wide-angle lens composition. The fact that Mike could apply his survival-level Spanish was a great help, as little English was spoken in the gallery.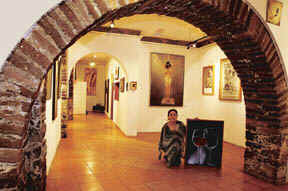 Mike returned within the week, bringing camera and tripod. The gallery owner, Laura, and her assistant, became quite involved in the photographic process when Mike asked that they look through the lens, and advise on composition. Macduff's ideas really worked!
Now, you can't go to a place like San Miguel de Allende for just a week! After investing all that money in airfare, and the grief in passing through airports that is today's air travel, you just have to stay longer. On the Internet, Mike found the Instituto Allende, http://www.instituto-allende.edu.mx/indexeng.htm an internationally - recognized language school located just across the street from the hotel where Mike's photo workshop was based!
Mike signed up for two weeks of intensive, one-on-one Spanish lessons, forty hours worth. When the photo workshop came to an end, Mike stayed on at the hotel for another two weeks, going back and forth across the street for reflexive verbs, object pronouns, and some super flower photography in the Instituto's extensive gardens. Of course, his instructors became his photo subjects, sitting for portraits, and by the time his courses had ended, he had instructed them extensivly in the theory and practice of photography - all in Spanish, of course!
Mike's workshop was headquartered in the Hotel "Posada de la Aldea" (the Village Inn), a charming three - story establishment with extensive grounds, and what appears to be the only hotel swimming pool in San Miguel.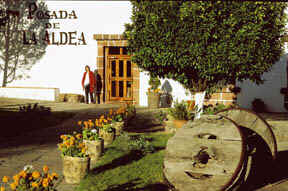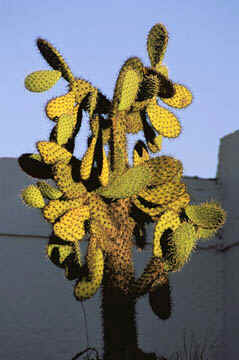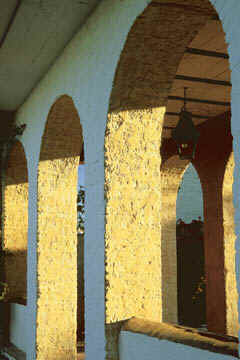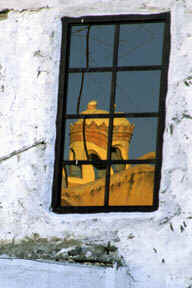 One of the advantages of San Miguel being a tourist town, with a large Anglo retirement community, is the establishment of a number of excellent restaurants in the city core. One fine Italian restaurant, L'Invito, is located in the same building as the Instituto Allende. From their patio, one can watch La Parroquia catch the glow of the setting sun, before settling down to an first - class meal.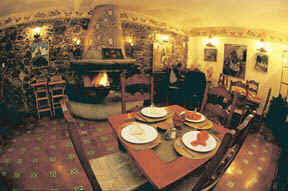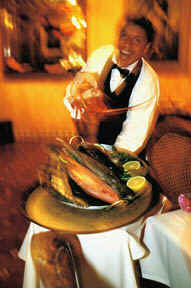 Casa Puyo, on Zacateros Street, claims to be an Argentine steakhouse, but in fact, they serve Mexican beef, as tender and tasty as one can find anywhere in North America, and better than most! The waiter kindly lit the fire at Mike's request, when he arrived for the fourth time during his stay in San Miguel, and by the time he had finished dinner, the room was perfectly set up for a good photo.
Clemente, head waiter at the El Campanario (the belfry) Restaurante is a natural comic. Mike was enjoying a tour of this restaurant, on Canal Street, after photographing the owner, and when Clemente saw the camera, he was happy to pose with the seafood platter he had been showing to a table of guests. El Campanario is said to be the seafood restaurant of San Miguel, and after a wonderful meal of orange roughy, Mike could not argue the claim.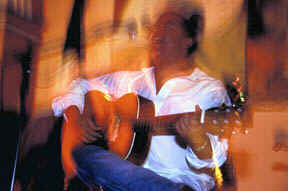 Jesus Sanchez, well - known folk singer in San Miguel de Allende, serenades customers in Finnigan's Bar and Restaurant, on Zacateros Street. Mike enjoyed a seafood dinner here that rivalled that of El Campanario.
To make this image, Mike employed a photographic technique that he picked up during his workshop. The basic exposure was made using ambient light, while handholding the camera using a 15mm fisheye lens, with very slow shutter speeds (hence the blur). At the end of the exposure, Mike popped his flash, bouncing it off the ceiling to avoid heavy shadows. The resulting "mood" of the picture is very appealing, and Mike used this technique to make a number of his favourite photos in San Miguel.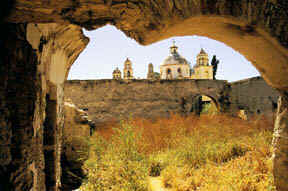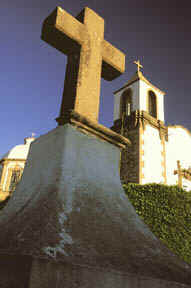 There are many attractive churches in the vicinity of San Miguel, that lend themselves to exploration with a camera.
The image on the right was made at La Parroquia de San Antonio de Padua, a large church about a ten minute walk from Mike's hotel.
The left - hand photo was made at Sanctuario de Atotonilco, a religious site about 20 kilometres outside San Miguel, during a bus tour taken during the photo workshop.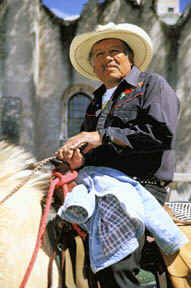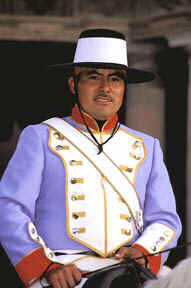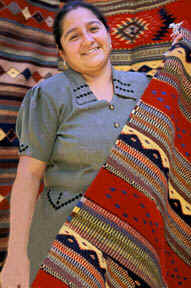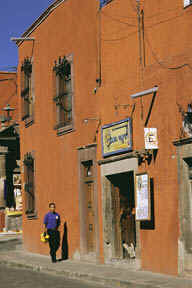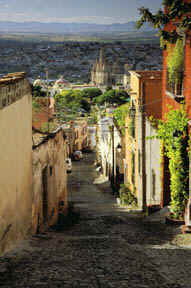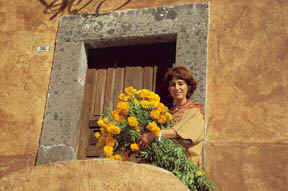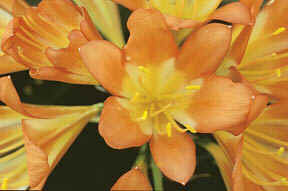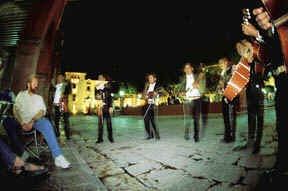 Almost every night, in El Jardin, there is something going on. On this particular night, Mike stalked a mariachi band, hoping for a good image. When they gathered to serenade patrons of a nearby restaurant, Mike positioned himself at the feet of the guitar player. With his fish - eye lens, he was able to capture the entire group, as well as several of the appreciative diners!

Read the comments that David Pincus, one of the participants in Mike's Santa Fe workshop, had recorded while on the way home . . . just random ideas and impressions, written while they were still fresh in his mind. David's thoughts really express the impression that San Miguel leaves with first - time visitors . . .

"The sun, wistfully rising over San Miquel, bringing to life the brazen, rich colors everywhere in this bustling little city in central Mexico, from the towering church steeples to the street-long adobe walls and simply decorated windows, doors and hanging lamp fixtures to the endless shops and kiosks selling everything from the simple and cheap to the ornate and moderately expensive. . .

Gustavo, the young, industrious worker at our hotel who snuck us onto the roof (before everybody else discovered it) for a jaw-dropping straight-on, unobstructed view of the main cathedral as the sun departed the ever-blue sky...

The thousands and thousands of uneven cobblestones we walked over (and often almost tripped on), so classic and scenic yet so rough on the feet and stamina...

The quick smile that appeared on the natives' faces when we smiled at them and said a simple Buenos Dias, Buenas Tardes, or Buenas Noches (They almost never failed to respond in kind, instantly evaporating the differences between us, at least for that moment in time)...

Traffic intersections without lights, and no honking horns or screaming drivers – just everybody taking turns, allowing pedestrians to cross, nobody in too much of a hurry...

The late afternoon light, oh that gorgeous light – so bright and clear, it practically crackled and made everything glow with color so vibrant it seemed unreal, fantastical, more like paint on canvas than natural (but indeed it was as real as the pleasure I took from it every afternoon, and early morning)... "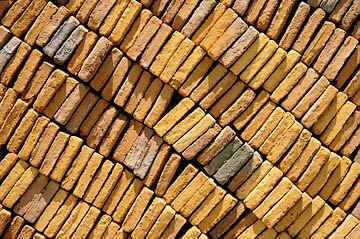 To say that Mike's trip to San Miguel de Allende was a success is an understatement. Plans are already afoot to return, with Allison, to enjoy more Mexican beef, Spanish lessons, and conversations with the many friends he had made. With Allison's magic eye available on the next trip, Mike hopes to return with even better photographs.
Contact Mike and Allison: mgold@pathcom.com