AUTUMN IN VERMONT
"From the Interstate highways of Vermont, as they swoop from
high vantage points down into the valleys, you can fully
appreciate the extent of the autumn foliage in the Green
Mountain State. For mile upon mile, hour after hour, the
mountains are a riot of color. The far hills are shaded with
dark blue to purple, while closer elevations appear to be a soft
rose madder. Mountains on either side of the road constantly
surprise the eye with spots of deep orange, cherry red, and the
bright crimson of the sumac patches."
Read the rest of our article on Apogee Photo Online, at:
http://www.apogeephoto.com/sept2000/vermont.shtml

Vermont is a very special place, in that there are no big cities in the state! The majority of the people live in small villages, or out in the country, along wonderful winding dirt roads. Anybody who has noticed how friendly "country people" tend to be can now visit an entire American state that is chock full of them!
The Grace Episcopal church was found in the town of Forestdale, while we were driving over to the Vermont/New York state line.
Most of the good photographs of Vermont are made along the back roads. To find your way around, you'll need the "Vermont Atlas and Gazeteer", published by Delorme, in Yarmouth, Maine.
The entire state is full of great photographic opportunities, so much so that a number of photographers' guidebooks have been published, all showing how to find those great 'photo ops'. If you've spent a few weeks along the back roads, with a good atlas and perhaps a GPS unit (and a camera, of course!), you can most likely write your own.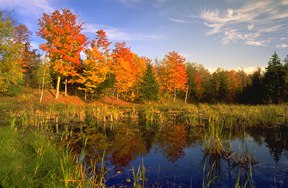 We had encountered a parade of antique touring cars while in Barnard, and had followed them for a while. Breaking off from the tour, we were headed back to our cottage in East Barnard, when we found this wonderful swamp on the Royalton Hill Road.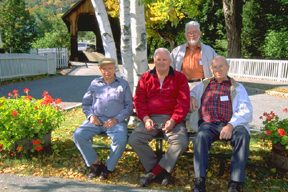 We encountered this group of good friends (not ours!) in Woodstock, the only town in Vermont where you'll find traffic jams, and they happily posed for the camera. A little fill flash brightened the shadows caused by side-lighting. The Woodstock covered bridge makes a nice background.
Vermont weather can be quite changeable. There can be snow in your front yard at dawn, and by lunch you can be wearing shorts and a tee-shirt. If you're hiking, or even driving around, keep a few extra layers of clothing with you for those weather surprises.
This is the top of Killington Mountain, at noon, in early October. Actually, the trees do continue right to the top of the mountain, but the top third of this forest is covered in snow! This shot was made from the parking lot at the ski facility.
Any serious photographer soon discovers there are a number of "hot spots" to visit in Vermont. East Orange, Peacham, the Grey Farm, Arlington Covered Bridge ... and of course, the famous Jenne Farm...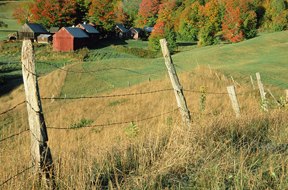 We arrived at the Jenne Farm before dawn, together with some 30 other photographers from all over the continent. As the sun rose over the hills on a cloudless morning, we politely pushed each other out of our respective views, as we tried various angles and lenses. A Tiffin enhancing filter produced a wonderful glow from the outstanding autumn colors found here.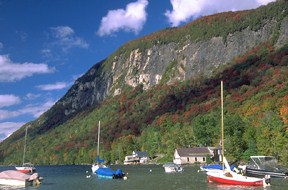 The hills surrounding Lake Willoughby are great for hiking. The lake is very scenic, and makes for good sailing water. Photographers will love the various views that different times of the day present to their cameras. A blue-yellow polarizer emphasized the sky in this image.
We put 2000 miles on our van, during our most recent three-week expedition in Vermont, mostly on dirt roads. Navigating can be a challenge, for any out-of-stater that intends to drive them intensively. Besides the trusty Atlas, we use two dashboard compasses, and a trip odometer. In addition, I've spent many hours with photographers' guides before the trips, outlining our routes on the Atlas with yellow highliner, and computing the exact mileages we must travel. Allison navigates as I drive, and these preparations make her job much easier. Some of the published directions have to be taken "with a grain of salt"!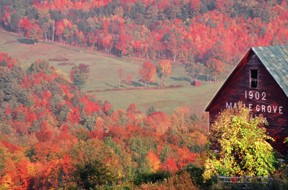 Just across the valley from our rented cottage in East Barnard, the Allan Hill Road winds up and up, to a number of superb photographic possibilities. We've stopped at the Maple Grove Farm on a number of occasions, at various times of the day, and always found yet another good photograph for our collection.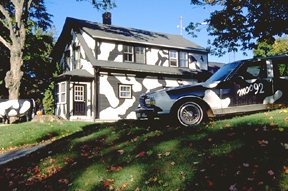 While cottaging near Derby Center, we listened in the morning to "Moo 92", the local dispenser of news and weather. It was fun to drive right by their unusual "studio" one day (how could you miss it?).
If you're going to Vermont, arm yourself with "50 Hikes in Vermont", published by Backcountry Publications, and a good pair of boots. The state offers great walking, but the only flat areas in the state are the lakes, that they call "ponds". Don't forget to carry water, a compass or GPS, snacks ... and your cell 'phone, in case you get lost! The 'view from the top' makes the effort worth while!
You will want to be well prepared for carrying serious photographic gear up mountains. At the very least, a "photo rucksack", with waist and chest belts, properly adjusted for your physique, and the tripod properly balanced as part of the load. An alternative is to carry the tripod slung crosswise over your body on a strap, with camera and lenses in a waistbelt, or the pockets of a good vest.
My friend, Andre Jenne, Vermont stock photographer par excellence, goes up mountains with his camera installed on his carbon fiber tripod and slung over his shoulder ... while wearing sandals, no less ... but one false step or a slip on a loose rock ... it makes me shudder to think of it.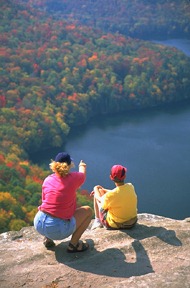 A short, steep climb of 20 minutes or so will bring you to the top of Nichols Ledge, with fantastic views, and very steep drop-offs. I deliberately placed my colorful colleagues in my foreground, and used a narrow depth of focus to produce a three-dimensional effect. Fill flash brightened the dark shadows, and a polarizing filter popped the colors. This photograph was made on a tripod, and yes, I carried it up and back down again!
We've found that, if you wander an area with a theme in mind, you see far more than if you travel aimlessly. In Maine and Massachusetts, we try to visit lighthouses. These quests take us down many country roads in voyages of discovery that we otherwise might not make.
In Vermont, lots of folks search out the many old covered bridges that are found everywhere. They are an integral part of Vermont history. If you travel with a copy of "Covered Bridges of Vermont", published by The Countryman Press, you'll find many more of them, and learn a few things besides!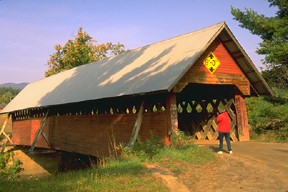 This is the River Road Bridge, near Troy, Vermont, one of the relatively few photogenic covered bridges we were able to find. They are all interesting, and each has a fascinating history ... but few seem to be designed with scenic photography in mind!
It's not unusual for the weather to turn bad in the autumn. Don't fall into the trap of putting your camera away on a cloudy day, or a wet one. That kind of flat, diffused light makes autumn colors jump out of your film - just keep the sky out of your images ... The photograph below was made just after the rain stopped falling, using a polarizer and a narrow depth of focus.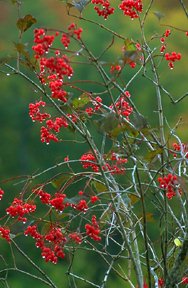 Where will we go? Let's get out the Atlas, and see what roads haven't yet been highlighted. Pack a lunch, fill the water bottle ... don't forget your sketching pad, Allison! Lessee ... how does my fresh film supply look ... Whip up the horses, and let's go explore Vermont some more!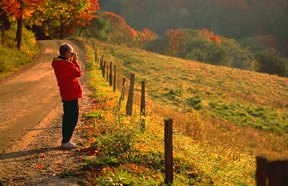 The images above were made on the Webster Hill Road, northwest of Woodstock, one frosty morning. The valley shot on the left was one I had planned, and it was made just after we arrived, before the sun rose above the surrounding hills. While we enjoyed the developing scene, a flock of wild turkeys emerged from the woods, and when the sun climbed high enough, I photographed Allison as she enjoyed a spot of impromptu birdwatching.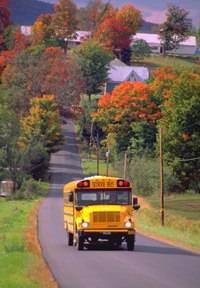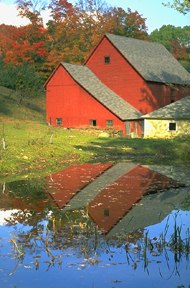 We photographed the school bus on the Wheelock Road outside Sutton, one day, finding ourselves on a back road as usual, at the time that school lets out. The double-peaked barn we found at the intersection of the Allan Hill Road and the Howe Hill Road, above Sharon, Vermont. This barn was featured on the cover of a book called "Barns of New England", that we later found in Woodstock.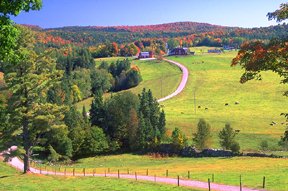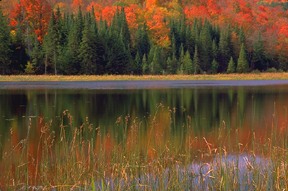 The Diamondheart Farm, in East Albany, shown on the left, will delight the photographer's eye for hours on end. The way to the image on the right was pointed out to us by a local state trooper, while we were photographing the village of Waits River. "Just go up the hill, and you can't miss it!", he said, and he was right. Bring your rubber boots ...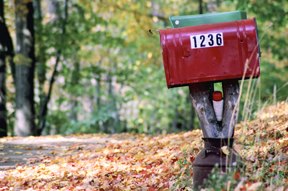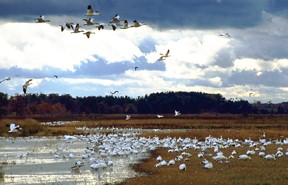 Thousands of snow geese, shown in the photograph on the right, migrate through Addison, Vermont, each autumn. You can sit in your car or stand by the side of the road, and burn up all the film you desire, while the scene constantly changes around you. Just south of Addison, you'll find the Inn at Lover's Lane, a delightful bed-and-breakfast where you can rest your shutter-release finger.
Speaking of bed-and-breakfasts, isn't this one a honey?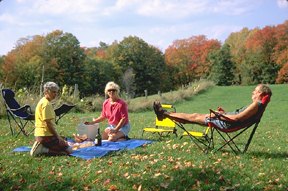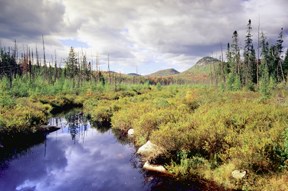 Contact Mike and Allison: mgold@pathcom.com